Did you know that 25% of factory and warehouse accidents happen in or around the loading bay? It's a worrying statistic that demonstrates a huge under-appreciation of the risks involved in the movement of goods ready for transport or storage.  It's clear it's having a significant impact on the industry as a whole despite a focus on the prevention of injuries.
Loading bays are thriving hubs of activity during operational hours, with goods packaged ready for loading being moved by forklift trucks (commonly referred to as FLT) to a variety of transport vehicles, from HGVs and articulated lorries through to trailers and vans. The loading approach can change from load to load, with the method of packing, the type of vehicle, and the loading space all creating their risks and hazards.
According to Great Britain's Health & Safety Executive (HSE), being struck by a moving vehicle is the main cause of transport-related incidents with around 37% being attributed to this in 2020/21. The economic cost of workplace injury in the transportation and storage sector is estimated at over £800m; this accounts for 5% of the total cost across all industries. There is also the cost of remedying any damage caused to vehicles, equipment, and premises from incidents and accidents, which can quickly add up.
We've put together 3 top-loading dock safety tips to help your business provide a safe working environment for all staff and stakeholders.
loading dock safety tip 1 - keeping operatives safe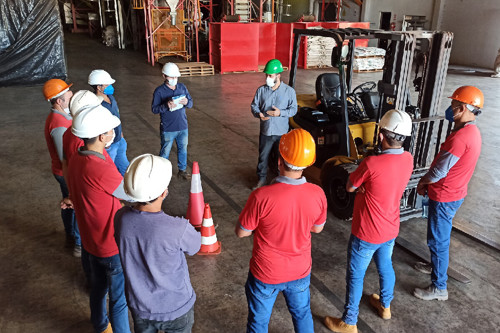 Loading and unloading goods and be extremely manual, despite the adoption of the right equipment. Injuries caused in a workplace can range from minor to fatal injuries and can derive in several ways. Injuries can include, but are not limited to, sprains and strains (from improper lifting activities), crushing injuries, collisions between forklift trucks (FLTs), and trucks to falls from height (typically the loading dock), or incorrectly stacked or packaged stock falling.
employee training
It's important to have high-quality and clear guidelines and standards for employees on how to load and unload materials correctly and safely, including forklift operators and those using material handling equipment.
In-depth and relevant health and safety training should be delivered frequently, not just as part of onboarding new team members but at regular intervals in any given year, too. Training isn't solely designed to help prevent workplace injuries, but to ensure the correct techniques are known and understood to prevent longer-term health issues, such as musculoskeletal problems or mental health issues.
loading dock safety tip 2 - keeping vehicles safe
Collisions and backovers are two of the biggest dangers in a loading dock. You should ensure that the correct risk assessments, protocols, and procedures have been undertaken with regard to dock safety and that these are implemented and communicated with all staff and stakeholders when entering the site. The use of road markings to indicate the flow of traffic and enforcing speed limits can help ensure clarity about the safety protocols in place for vehicle safety. It can also be helpful to think about painting the edges of loading docks, staging areas, and loading/unloading areas to enhance visibility, and installing a system of lights to communicate to drivers.
vehicle restraint systems
Once a transportation vehicle is in place ready for loading, drivers should shut off their engine to reduce air pollution and engage the vehicle's brakes to reduce the risk of a common, yet potential loading dock issue; a driveaway in which the vehicle pulls away while it's still being loaded or trailer creep, involving a trick slowly inching away from the dock creating a dangerous gap. About 7% of the thousands of forklift accidents that occur every year are due to forklift trucks running off loading docks. Better still could be asking drivers to exit their vehicles and to wait in a designated area whilst loading takes place.
In addition, worn or defective trailer landing gear, designed to keep trailers level and secure when not attached to a vehicle, can present a significant hazard. If one or more legs falter, the trailer could tip and injure or kill anyone inside, especially operators of forklifts or other powered industrial trucks.
loading dock safety tip 3 - keeping the environment safe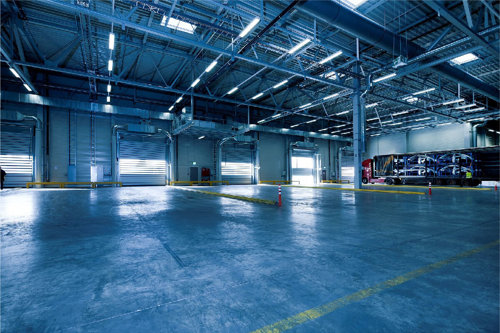 Weather conditions can have a serious impact on loading dock safety. Slippery walking surfaces are a leading cause of workplace accidents and yet can be easily managed. A seal or shelter in place around the dock doors can help reduce the risk of slips, trips, and falls around the loading docks.
prevent falls
When it comes to the practicalities of loading, dock plates, boards or levelers can be used to bridge the gap between the trailer and the dock to ensure operatives and forklift trucks can safely load or unload trailers. However, it's crucial to ensure that whichever mechanism is employed can support the maximum payload weight that's expected to support. It's essential that the equipment installed is properly maintained and serviced regularly too.
Ensuring these 3 loading dock safety tips are implemented isn't just the right thing for employers to do, it's a legal responsibility for employers too. From equipment to guidance, technology training, the support is available to ensure health and safety come first, every time.
improve your business's loading dock safety today
At Joloda Hydraroll Ltd, we have a number of different solutions to help you improve loading dock safety, these include either Automated Loading Solutions or Manual Loading Solutions.
Depending on your processes, what materials you're moving, and how frequently, our solutions can help lighten your load and improve the safety of the dock. Our automated loading solutions can speed up a standard process that happens in every production and warehousing location. Typically, the forklift process of loading a full trailer will be around 30-45 minutes, whilst ours can do it in under 5 minutes.
On the other hand, our manual loading solutions are ideal for trucks, trailers, and containers, these solutions load and unload pallets, slip sheets, drums, newsprint rolls, and; heavy and large machinery. Systems can be adapted to your needs and requirements and can be built into a trailer's floor or pre-built to sit on top of any flat surface, such as a warehouse or factory floor.
request your FREE loading logistic operations site assessment today!
We'll call to arrange a convenient time and date to visit your site. We'll analyse your logistics operations, assessing how goods/pallets are loaded and unloaded. Our design experts will work out how best to safely, efficiently and transport loads from the end of production lines into trailers. Next, we'll design you a comprehensive loading solution that can streamline your logistics processes and send this you to via email.
We'll do all this to ensure we fully understand your product loading and unloading requirements and help lighten your load!
This is an amazing service we do for thousands of businesses throughout the world every year and why we're known as the global leaders in loading and unloading solutions. We work with such a wide variety of industries, including automotive, beverage, air cargo, contract logistics, FMCG, packaging paper and print, petrochemical, and many more...
Request your FREE, no-obligation logistics operations site assessment today!
learn how we helped businesses like yours make unsafe loads, safe!
To find out more about the latest manual and automatic trailer loading installation projects we've been working on, check out our Case Studies section.
why choose Joloda Hydraroll?
We help businesses lighten loads and are highly regarded as the world's leading loading and unloading solutions provider in the logistics industry. Over the last 60 years, we've helped thousands of businesses streamline their logistics operations to be more cost-efficient, more sustainable, and more health and safety-conscious.
 As experts in all kinds of unloading and unloading solutions, we can help innovate, automate and streamline your end-of-production line problems, wherever you are. We work with a network of over 30 global distributors to provide you with comprehensive design, installation, maintenance, and certification services across a range of industry sectors. Learn more About Us today.
Get in touch with our experts today to learn how we can provide a safe working environment, call our friendly team on +44 (0) 151 427 8954, on our Let's Chat page, via email at sales@joloda.com or on our LinkedIn page.
Book a FREE Loading Assessment
Learn how to make the loading process safer and more efficient with a no-obligation assessment...
BOOK NOW