A loading dock is sometimes referred to as a 'loading bay' or a 'receiving bay' is an area of a building where a business or logistics operator receives goods and trucks also stop to collect goods for transportation.
Naturally, loading and unloading is an important part of warehouse logistics, so good loading dock design is crucial for achieving loading efficiency. The design of a warehouse loading dock should promote efficiency and, most important of all, safety. Bad design can affect the whole supply chain, make operations inefficient and, worst of all, create serious safety hazards. Health and safety is paramount, and no operator wants the death of a worker or major injuries to them on their conscience.
In this blog post, we're going to take a look at different types of warehouse loading dock designs, how to optimise loading dock design, safety and security measures, and some of the equipment you should have in your loading dock. We start with the different types of loading docks.
the different types of loading docks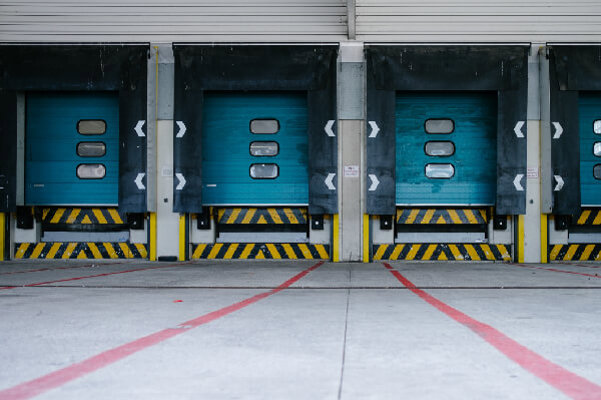 Loading docks share the same fundamental function but differ in type, depending on the operator's needs. Some types of loading docks will serve different environments better than others. Below are some of the main types you'll encounter in warehouse logistics:
Flush dock
This is possibly the most common type of loading dock, and, basically, the truck driver backs the trailer up against the wall. A dock shelter will create a seal between the trailer and the building, and an overhead door comes down onto the front of the dock leveller and dock door.
Besides making it easier to load and unload trucks and trailers, the purpose of these docks is to save space, and they fit comfortably into the building. Operators in manufacturing industries or who have commercial outputs tend to use this type of loading dock.
Enclosed dock
Enclosed docks aren't ideal because they incur high construction costs and occupy a lot of space. Not only that, but they make it harder for workers to access warehouse equipment and supplies, and the docks also require a ventilation system to stop the levels of exhaust fumes and pollution from affecting the warehouse workers.
In an enclosed dock, the trailer will park inside the building or inside a sheltered area during loading and unloading. Despite the disadvantages of using an enclosed dock, the workers who are loading or unloading the trailer enjoy the benefit of accessing the goods quickly and easily. The docks also protect the goods from environmental and structural damage, so it would be remiss to rule them out completely as an option.
Saw-tooth dock
A saw-tooth dock is an innovative, useful solution for loading docks that offer little room for trucks to manoeuvre. The space for this increases relative to the angle of the dock, and the trucks don't need as much space to move because they'll already be lined up in the drive away direction. The approach design allows the trucks to leave in the direction of the angle of the dock.
A saw-tooth layout, despite its advantages, will take up extra space in a building. Space between levellers is also limited. Industries that entail large-scale manufacturing and have the warehouse space to accommodate a saw-tooth dock are the best placed to employ this dock layout.
Open dock
Open docks provide easy access for loading and unloading, but they're neither common nor popular. Very rarely will an operator choose this type of dock for transferring easily damaged goods. Open docks consist of an open platform and provide very little protection against the elements. They're vulnerable to theft and criminal damage, so security is also an issue.
how to optimise warehouse loading dock design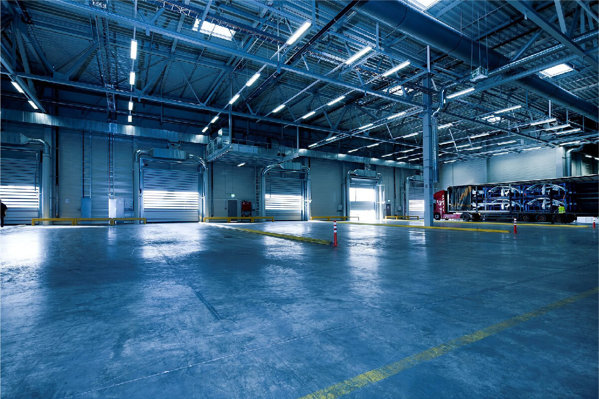 The aim of the loading dock is for the warehouse to load and unload goods safely and efficiently for storage or dispatch as necessary. The dock design should promote this as much as possible. Bad design can harm productivity and cause injuries or even fatalities. Here are some tips on optimising your warehouse design:
Avoid bottlenecks
Trucks will need to access the loading bays, so the site should avoid creating bottlenecks as the trucks approach the loading dock. The road layouts should allow the trucks and other vehicles to travel quickly and safely, and, necessarily, should minimise the level of manoeuvring to increase safety and reduce the potential for bottlenecks.
Strict control over the directional flow of trucks will help. If the warehouse is a country in which vehicles drive on the left-hand side of the road, a clockwise direction would be best, whereas if they drive on the other side, counter-clockwise would be more appropriate.
Consider the different dimensions of the trucks
It's absolutely crucial to consider the different dimensions of the trucks that will be entering your loading dock. In most European countries, for instance, a truck that has a trailer length of 18 metres is permitted. If you don't know the dimensions of the trucks, assume the maximum length is permitted.
The space in front of the dock for parking and manoeuvring should be at least twice the length of the largest truck plus two metres. Additionally, the space between the truck and the wall of the dock should be at least 1.4 metres.
Keep the loading pit straight
A good loading pit is straight. The maximum gradient should be no more than 10%. To solve the problem of height between the yard and the truck floor, and depending on the yard, it's possible to build a flat lane of 18 metres in front of the dock before the slope begins, so that the truck can park straight and facilitate smooth loading and unloading.
Minimise the difference between floor height and platform
Trucks of different heights and models will be entering the loading dock. Refrigerated trucks will be especially high. Look at the height of the lowest loaded truck and at that of the highest one to determine the average height of the trucks that will be entering the dock, and then try to minimise the gap between the truck floor and the platform height.
To accommodate special trucks, you may decide to set up special loading docks for them. Another option could be longer dock levellers, the purpose of these items of loading equipment being to bridge the gap between the height of the trailer and the loading dock platform.
Be aware of safety hazards
Unfortunately, there's lots of potential for accidents in loading docks, and it's important to be aware of possible safety hazards when designing your loading dock. Unpleasant incidents that can occur in the loading docks of warehouses include:
accidents involving forklift trucks, such as trucks overturning;
lapses in attention, or lack of awareness;
carbon monoxide poisoning;
injuries when pushing, pulling or reaching;
trailer creep, which is when the repeated movement of forklift trucks entering the trailer and then moving out of it causes the trailer to separate from the dock leveller;
workers getting crushed between the trailer and the loading dock;
slips, trips and falls.
Use dock scheduling software
Implementing loading dock scheduling software allows carriers to book appointments and you to organise your loading operations around the appointments in the software's scheduling system. You can then commit the necessary employee hours to address incoming goods or outgoing ones efficiently, enabling you to cut costs, a pressure under which logistics operators find themselves more and more. The system can also consider equipment, trailer types and more.
Install ventilation and fans
Unfortunately for the workers, loading docks entail working with vehicles and machinery that produce hazardous fumes. Operators should ensure the warehouse has proper ventilation to stop their employees from breathing in dangerous chemicals and experiencing health issues.
Loading dock operations also force workers to work in hot trailers as they load and unload vehicles. This could cause them to feel dehydrated, which will cause discomfort and result in less productivity. Worse still, it could cause accidents.
loading dock safety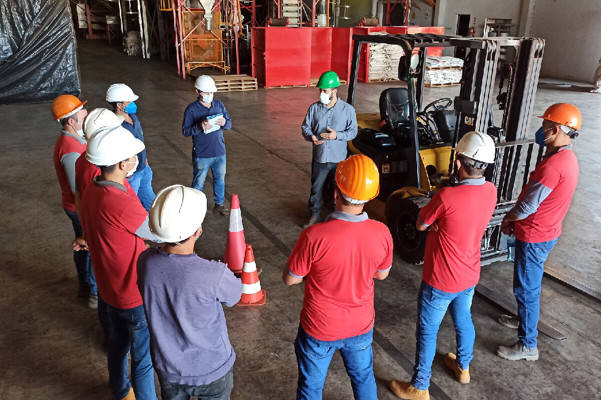 The loading dock must pave the way for productivity, but above all, it must be safe. How can operators make their loading docks, as well as working in them, as safe as possible?
Use vehicle restraints
Vehicle restraints are an important safety feature that prevents the drivers from pulling away while workers are still loading or unloading the vehicle. They also stop trailer creep. These sudden movements can lead to employees stepping onto open air from one second to the next, can cause ramps to fall while the worker is transporting a heavy pallet or, even more awfully, to crush their leg between the trailer and the loading dock.
Fit proper lighting
Good lighting can mitigate the risk of trips and falls. Workers can easily avoid tripping over obstacles and avoid injuries if they have the proper lighting to see what they're doing while loading or unloading dark trailers.
Working in daylight hours is no excuse for loading docks not having the proper lighting to see well when loading or unloading a trailer. The docking area should have good lighting inside and outside of it so that your employees can work as safely as they can quickly. Don't forget your loading dock lightings, such as warning and restraint lights, should undergo regular maintenance to avoid failing bulbs.
Train employees
You should train your employees properly on safety in the loading dock area. This may take a little time and effort, but it's essential and will ensure your employees' safety. The better they understand health and safety, the better their decisions will be. This is why it's so important to give them a thorough grounding that helps them to spot potential hazards, steer clear of forklift truck accidents and, generally, understand basic health and safety practices in a warehouse.
Keep the area clean and organised
Besides hampering efficiency, a messy, unclean and disorganised loading dock creates a plethora of health and safety hazards. Employees must learn to spot and recognise spillages and clean them up immediately, and you should provide cleaning supplies for them to deal with any oil slicks, water or other spillages they may encounter, to avoid trips or falls.
Maintaining a well-organised loading dock prevents falls and trips. Not only this, but it reduces pedestrian and forklift traffic. The loading dock should have waste receptacles nearby so employees can dispose of cardboard and any other packing materials. Ideally, you don't want to have euro pallets, wooden pallets, plastic pallets or containers in the loading dock, but if this is unavoidable, devise a system to keep them out of the way. You should also have space and a system for storing equipment.
Use safety markings and fall protection
The edge of the loading dock must remain clear during loading and unloading, so it's important to make it as visible as possible. Painting the edge of the dock bright yellow will help to reduce falls. Workers, whether operating a forklift truck or otherwise, are much less likely to fall if they can see the edge.
If doors aren't open or in use, you should have fall protection in place. Closing off the opening with a gate or steel or aluminium protection railings can stop workers from failing.
Employ loading dock seals, shelters or canopies
Any water or other elements such as snow that get into the loading dock can trigger the risk of slips or falls. Fitting loading dock shelters, canopies and seals will reduce these risks, shield the loading dock against the weather and keep the elements outside. Thankfully, trailer designers have also begun to understand the risk of water running into the loading dock and have started to design trailers that have rainwater-diverting grooves on them so that the rain runs off to the side of the vehicle rather than into the dock.
the ultimate guide to safe loading and unloading of vehicles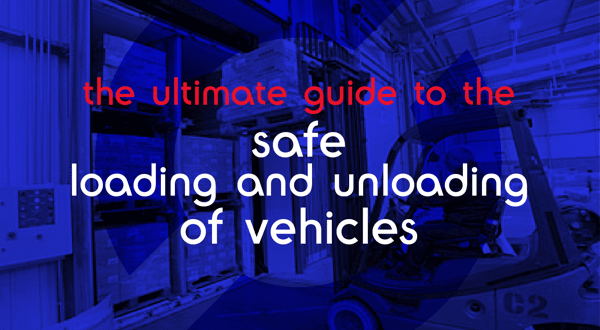 We've assembled The Ultimate Guide to the Safe Loading and Unloading of Vehicles. The guide looks at how to load trucks and trailers safely as well as at load securing, the different hazards logistics workers face when loading or unloading a vehicle, and the role of employers and employees in the loading and unloading vehicles safely. We also explore some of the issues operators and their workers face when dealing with chemicals.
the top 3 loading dock safety tips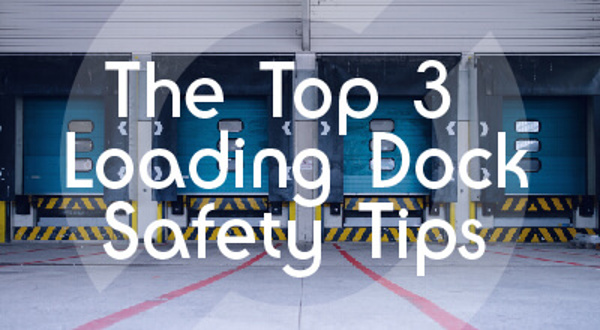 Did you know that 25% of factory and warehouse accidents happen in or around the loading bay? It's a worrying statistic that demonstrates a huge under-appreciation of the risks involved in the movement of goods ready for transport or storage.  It's clear it's having a significant impact on the industry as a whole despite a focus on the prevention of injuries.
We've put together 3 top-loading dock safety tips to help your business provide a safe working environment for all staff and stakeholders. You can read more about loading dock safety in our blog post The Top 3 Loading Dock Safety Tips'.
loading dock security
Of course, all those goods may be tempting to the wrong people, so it's indispensable to protect any goods that enter a warehouse stock and stop them from falling into the wrong hands. Here are some tips on keeping your loading dock secure:
Control the timing
It's helpful to have a policy on when you'll accept loads. Receiving deliveries when there are few employees around to check and attend to them leaves the goods more vulnerable to theft. Someone should be there when a load arrives, and the doors should only open when necessary and to people who have clearance.
Ramp up access control
Not just anyone should have access to your loading dock. Gates, video cameras, bollards, turnstiles, badges, guards and biometric devices are all ways to obstruct or deter anyone intent on wrongdoing. High-risk areas should have rings of security, featuring video cameras, access badges and gates, and the most vulnerable or insecure areas, or areas, where losses are potentially high, should be fitted with biometric devices, such as fingerprint or retina scanners.
Lock overhead doors
It might be tempting to leave overhead doors open during business hours, but avoid the temptation at all costs so that the wrong people can't get in. Access to the key to the doors should also be restricted. Employees may grumble about this because it limits the flow in and out, but don't give in to their complaints. Such an easy flow isn't good for security.
Focus on trucks and minimise driver access
In the past, cunning thieves have accessed trucks, driven them into loading docks and then wandered around the dock helping themselves to goods.
Concentrating on the security features of trucks can stifle losses massively, but warehouses should also take care to limit driver access to the warehouse. Since drivers should have somewhere to stand safely during loading and unloading, they should only have access to the waiting room and the bathroom. They shouldn't have access to the count area.
Keep loading docks and warehouse equipment in good condition
Maintenance of loading docks and other warehouse facilities and equipment isn't just vital for efficiency; it's vital for security. Weak doors and broken panels make the loading dock vulnerable to thieves, so check doors for issues and repair them right away. No matter how minimal the damage might seem, ask a warehouse security specialist about it so you can gain an idea of how secure your warehouse currently is.
loading dock efficiency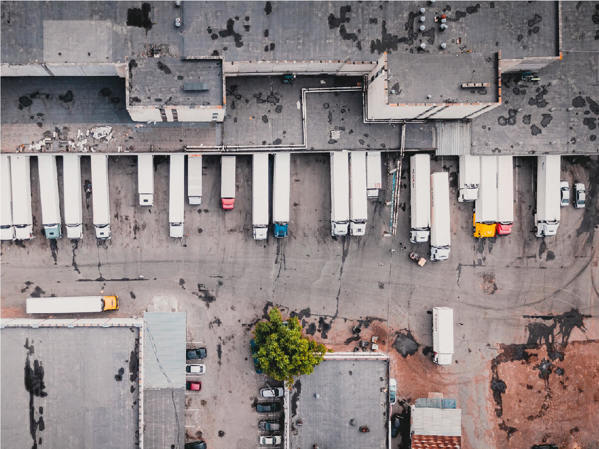 We've already discussed a few ways you can optimise your warehouse loading dock. Here are a few further ways you can bump up its efficiency.
Automate your loading dock as much as possible
You can save time by automating several elements of your loading dock. Overhead doors, vehicle restraint systems and levelling ramps all offer the option of incorporating automation into them. You can also coordinate signals and sensors that detect trailer movement. Naturally, conveyors and other solutions can help you to transfer goods from trailers to your loading dock, and vice versa can also boost efficiency. They're safe, too.
Implement routine safety measures
Making safety a priority can bolster efficiency. It's all about planning ahead. By keeping on top of safety considerations, you can enable operations in your dock to run more smoothly, rather than have to halt them because of a health and safety breach that's causing chaos.
Simple measures such as regular inspections of all equipment, from material handling vehicles to pallet racks; corner mirrors, curved ceiling mirrors and signage to keep pedestrians safe around vehicles; care to ensure all areas are adequately lit and free of obstructions; and that a certain crew is responsible for general housekeeping at the dock; are all precautions you can implement for a loading dock that's safe and efficient. Create a checklist to make sure procedures are being followed regularly.
Facilitate good communications
Poor communication is a major cause of inefficiency in warehouses. Communication must extend beyond verbal communication and digital systems, and consist of a whole system in which everyone knows what they're doing and how it will affect other workers and the wider company. Start with the broader aspects such as how the loading dock will operate and go right down to how to secure loads and other specifics. That's good communication.
Consider manual loading solutions
If you don't quite have the budget for an automated solution, you could try a manual loading solution to transfer goods between your trailer and the loading bay, and still cut your loading times and unloading ones by doing so. We provide two main solutions: the skate and track, and the roller track in different variations, including a system designed especially for warehouses.
Skate and track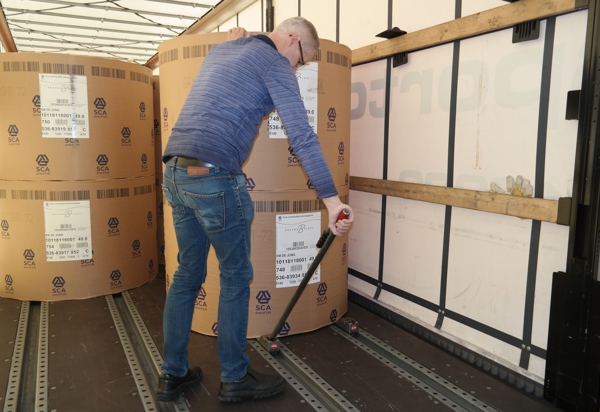 The skate & track system is designed for trucks and light vehicles and will help you make light work of moving pallets, machinery, drums and other heavy goods. The built-in roller skates on the system's track remove the need for forklift trucks to enter the vehicle. It's just a simple case of pulling the lever to lift the load, and then pushing or pulling the load as required.
Rollertrack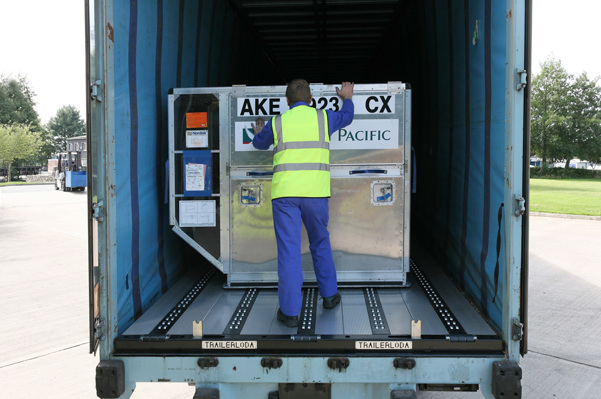 Our rollertrack loading systems, which we call 'rollerbeds', help to optimise operations by involving fewer workers in loading and unloading vehicles. Thanks to the pneumatic rise-and-fall floor, they can transfer a range of pallets and containers. We offer three main variations:
The built-in rollerbed (PRT), is a customisable rollerbed that you can integrate into the existing floor of vans, trucks and trailers. These extremely safe systems require one or two people to take care of the loading;
The modular rollerbed system (MRS), is a pre-built, modular and convenient retrofit system that it's possible to place on top of the existing floor of a vehicle and does not need to make any major changes.
The modular rollerbed system (MRS) for warehouses, is a prebuilt system that has an aluminium platform and integrated pneumatic rise-and-fall roller tracks. This is like the standard MRS but designed especially for warehouses. It's quick and easy to install, and you can transform your warehouse within hours by doing so.
the benefits of installing a loading dock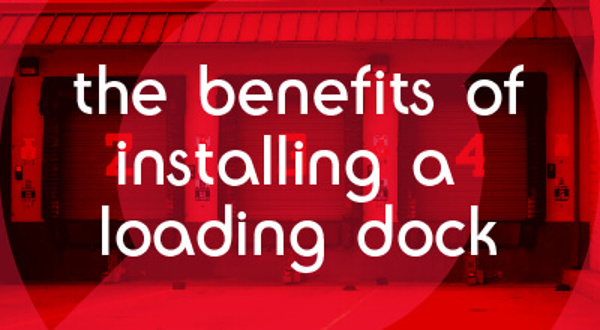 We've put together a blog, The Benefit of Installing a Loading Dock, where we give you some insight into the benefits, provide tips on designing planning your loading dock well, some of the hazards working in a loading dock can entail, and the right loading dock equipment to use and how to use it.
finding the right equipment
If a loading dock is to form an efficient part of the operations, you should use the right equipment. Important pieces of equipment you should consider using include:
Vehicle restraints — these hold a trailer's rear impact guard and secure it to prevent trailer creep and the driver pulling away while workers are still loading or unloading the trailer. Vehicle restraints are safer than chocks because you don't have to position them manually, whereas wheel chocks are more susceptible to human errors and being used incorrectly. Integrating restraints with master control panels can help to automate the security of the trailer and, again, eliminate the risk of errors that come with the use of wheel chocks.
Hydraulic dock levellers — hydraulic dock levellers are a little more cost-efficient and don't require as much maintenance. More importantly, however, they contribute to workers' safety by not forcing them to bend down into an awkward position. The worker just has to push a button to operate the leveller and bring it into the appropriate position.
Conveyors — the conveyors are a form of material handling equipment that bridge the gap between the trailer and the goods reception area. Conveyors reduce human interaction and make transferring goods to or from trailers safer. You might, however, prefer to use one of our manual loading solutions, which we've discussed above.
Barrier gates — barrier gates are an excellent way to provide extra safety in docks, which are often tight spaces that present fall risks. It's possible to fix gates into position or to fit them with open and close functions so that you can make the most of the space on the dock and allow the workers operating in it to move as freely as possible while they perform their tasks.
Above you've seen a range of ways to optimise your loading dock and address aspects such as safety and security, all to achieve the most productivity possible. When designing your loading dock, it's always a good idea to consult an expert for advice. If you need a suitable loading solution for getting your goods to and from trailers, either automated or manual, feel free to contact us, on our Let's Chat page to find out more about how we can help.